A L L O D I A C C O R D I O N S LTD
The Fantini Connection

E-mail to:- info@accordions.co.uk

Back

Home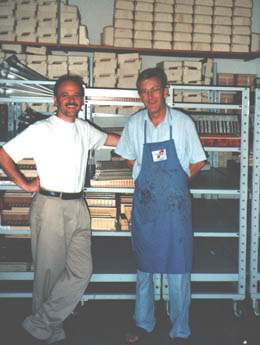 The Fantini and Allodi named accordions are most important to me. The accordion which bears the family "ALLODI" name was something that my father started many years ago. As my business grew I began to get a stronger idea of what many of my customers were looking for from an instrument and at that time we changed supplier and the Allodi accordion that we sell today was born and continues to be made with the highest regard to quality.

The relationship that has established itself between Leandro Fantini and myself is long standing by many years now and it means that we can talk honestly and openly to each other because of the genuine trust and friendship we have. Every consignment arriving from Italy is examined by me to ensure that all is 100%.

I check to see if any improvements are necessary and liaise with Leandro to find out what can be done on virtually a daily basis. We are in continual contact and we work totally together to achieve the best result for our customers. We are always looking for new ideas, new designs and materials to work with, for weight improvements, visual glamour and sound maximisation.

If I require anything at all for an instrument or a customer, he is the person I call and he never fails to help me in any way that he can so that I am then able to do the same for my customers.
Emilio
To the right is a photograph of the Allodi PP7 model in one of the beautiful fully decorated versions.

One of the great things about the Fantini range is that I am able to be flexible in offering my customers extra personalised designs. When buying any Fantini/Allodi instrument, be it the smallest 48 bass or a top of the range model you can add little personalised decoration touches that really make it your own.

The choice is totally yours. As little or as much decoration as you want. They come in a variety of colours as a basic box and you can request hand-made reeds for an extra Ł250-350 depending on size of accordion. Also in terms of specification, I have instigated many new models over the years that have become part of their standard catalogue. For example, Fantini offers 26 key models with not only 48 bass but with 54 and 72 bass starting on any note, with either two or three sets of reeds with any combination of couplers you may require. These requests are also made with minimal charges if any.

Many other factories or suppliers are not so accommodating to please individual customer requirement. There are still many other instrument specifications not shown on the website, however, if you would like more information on an instrument style or tuning you cannot see listed, please do not hesitate to contact me.
The Tiger Lillies




This band headed by Martin Jakes is in much demand and tremendously popular around the world. Martin has had three specially made accordions by Fantini, the last one being made to miniature size with five extra bellows folds to allow maximum extension. Pictured left the first custom made Tiger Lillies accordion.

Christian Vaughn-Spruce



Christian is a top session player
with this specially made Allodi SPO/GB 26-72 Bass
3 sets of reeds starting from low 'A' and with swing tuning.
(He now also has the SP30T with 30 piano keys to low 'G')

Ideal for Irish music.

SARAH ALLEN - FLOOK


One of the top folk bands here and abroad.

'WIX' WICKENS - PAUL MaCARTNEY

Then .......


Michael Ward-Bergeman

Michael is a graduate from the Berklee College of Music in America.
He has played in many countries around the world and is a top session musician.
In celebration of the 250th year of Bach's death, he has recorded the World Premiere of Bach's Passion of Saint Mark composed by the Argentinian Osvaldo Golijov with the Boston Symphony Orchestra.

Michael is a special person to us. He is so technically knowledgeable, such an innovative player and a real exponent of modern rhythm patterns using tremendous bellows control, and such a nice guy.

You may have seen Michael on BBC TV as he was chosen to perform in the commemorative programme for the 60th anniversary of the Auschwitz liberation. He found this a very emotional and moving experience as it was all filmed in the Auschwitz camp.

So do keep your eyes and ears open for any performances in your area.

and NOW!!!



An amazing photograph!
Michael has been busy recording the soundtrack of Francis Ford Coppola's new film.
Here they are pictured relaxing and having a little "jammin" session together.


Jason Nicolas

One of the Fisherman's Friends Singing Group from Port Issac, Cornwall

Taken in front of 70,000 fans on the main stage at Glastonbury.

BOB GELDOF
WITH HIS LONG TIME ACCORDIONIST ALAN DUNN


Another Fantini/Allodi enthusiast.
Alan Dunn also uses the new Roland Virtual Accordion.




THE ONE AND ONLY FANTINI GIRL!
http://www.youtube.com/watch?v=FWFV3ObiduU&feature=related

Lana has two Fantini accordions - one double cassotto CP22 and one standard SP4 and is mentioned and complimented by players from all over the world who have seen or heard her.
Making a real name for herself on the music scene.



Tino Morena

One of the very best accordionists that you will ever be
lucky enough to hear. Tino requested a specially designed Fantini convertor model
accordion for himself.

This very talented and disciplined musician composes to such a high standard that his choral works are frequently performed at the Vatican, Rome.

We are also proud to call him a long-standing friend
of the Allodi family

Koby Israelite


A great picture of a highly innovative and talented all round musician, not just accordionist,
and look what instrument he has chosen to play!

I told him not to take off the protection pad on the back of the accordion......



Eddy Jay



http://www.youtube.com/view_play_list?p=FE280409765CD4F5

To see some fine playing by Eddie please click on the above link and watch his YouTube samples played on an Allodi Accordion

John Romero



John is a former British Accordion Champion who now specialises in playing accordions which are fitted with midi or electronics, this includes writing his own software programs for his own specific needs as an extremely busy, working musician/performer.

The accordion you see in the photograph has been specially made for John to his own exacting specification.

The midi is being fitted retrospectively and to my knowledge will be the first of it's type with after-touch control.



The May Day Festival in Padstow



Thanks to Jason & Co. - becoming an 'Allodi' stronghold!



Photographs - Courtesy of Malcolm McCarthy


SJJimmy Cripps


In the radio recording studio playing a CP/26 - an unusual specification of single cassotto 96 bass with musette tuning; this has depth of sound from the bassoon reed but pure strong musette uncompromised by having the clarinet reed in cassotto.

Richard Jones

Climax Ceilidh Band

Angles

Molten Amber

Alistair Cameron



Basil Bunelik



http://youtu.be/Q29hJIYfHh4


Pete Currie - Skinner's Rats

KEVIN LANE



Kevin plays (and dances apparently) with Hunters Moon Morris, hence the specific design on the black Fantini; "Knots of May Ladies Morris" and several local ceilidh bands including "The Little Orneaux Practice Band" and "Selwyn's Marrow".

LIMBER COTRINA




SWANSEA ACCORDION ORCHESTRA - ALL ACCORDIONS BY FANTINI